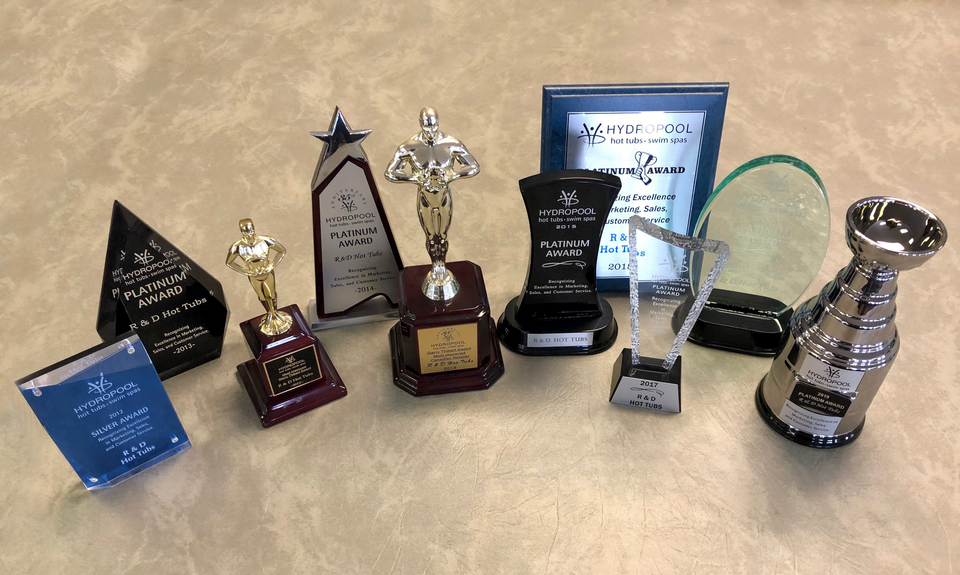 We have earned the Platinum Award every year!
R&D Hot Tubs has received the Platinum Award status from Hydropool every year, from 2013 through to 2019!
R&D Hot Tubs, Grills & Billiard Supplies Earns Two Major Awards at Hydropool Convention
Camrose Booster article, January 20, 2015
By Dan Jensen

R&D Hot Tubs, Grills & Billiard Supplies received two early Christmas presents at Hydropool's 35th world conference in Toronto Nov. 30 to Dec. 2.

The Russ and Doneal Greipl-owned business at 3843F-44 Avenue, Camrose, was named winner of Hydropool's Platinum award for excellence in marketing, sales and customer service, as well as the Gary Thibert award for highest percentage sales increase over the previous year, growth in the ability to excel in any circumstance, store presentation, sales training and customer service.

"It was the second year in a row that we won both awards," said Doneal.

R&D was one of 22 Hydropool dealerships out of 250 across North America that were nominated for the Platinum award and one of 10 nominated for the Gary Thibert award.

"The Gary Thibert award was shared by us and another dealership in Ontario," said Doneal. "It was the first time there had ever been a tie in all the years they have presented the award."

The awards say a lot about how R&D stacks up against other Hydropool dealers, many of which are in cities much larger than Camrose.

"It takes a lot of hard work to receive something like this," said Doneal. "You have to maintain strong service levels and keep the store at the level that Hydropool wants it to be. We receive visits three or four times by our regional district manager and twice a year by the Canadian manager, who handles all the Hydropool dealers across the country, so they do check in on us."

The Griepls were quick to credit the work of a strong and dedicated staff for R&D's success.

"Our two full-time service techs and our one part-time front end girl had a lot to do with us winning the awards because we can't do it all ourselves," said Doneal. "We depend on our staff to uphold the level of service that we want."

R&D opened its doors on July 1, 2008, and became a Hydropool dealership in April of 2011.

"The hot tubs and swim spas by Hydropool are the only ones we sell," said Doneal. "We decided we wanted to carry a product that was Canadian made, so after doing a lot of research on different Canadian companies we chose them. The beliefs that they have as a company are similar to ours and they value their dealers in the same way that we value our customers. They also have a lot of experience, as they have been manufacturing quality hot tubs for the last 35 years. It is a very good product all around."

The Greipls have been repairing hot tubs for the last 21 years.